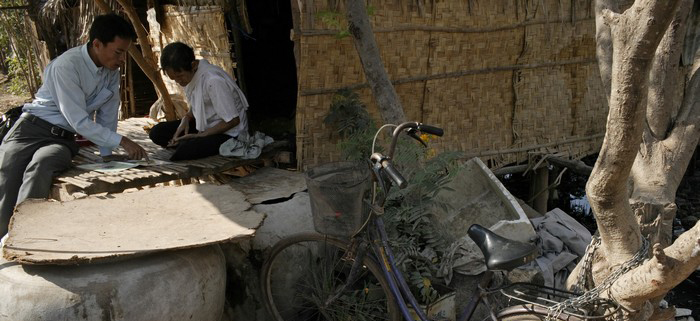 MoPoTsyo patient information centre helps Cambodians with diabetes to get themselves organised. This is done through the following activities:
Laboratory Services:
People with diabetes and other chronic noncommunicable diseases face barriers to access laboratory services: 1. the travel costs 2. the high costs of laboratory tests in both the Cambodian public and private health services 3. the lost income they forego as a result of waiting times.
Many people cannot afford pay for tests that their physician needs to take the best decisions so often treatment is started without good information. In connection with this, the quality of laboratory tests available at the thousands of competing laboratories is often questionable because many labs use special techniques to reduce their use of reagent, controls, so they increase their profit margins. To improve regular access to good quality and more affordable basic tests for its own membership, MoPoTsyo has set up a small laboratory service. Twice per year, MoPoTsyo's members will have the opportunity to give us a fasting venous blood sample at a convenient hour such as between 6 and 7 in the morning (drawn by a trained nurse) close to their village. The sample is immediately centrifuged on the spot (thanks to small portable centrifuge and portable generator), labeled, put on ice, transported to our lab to be tested the same day or next day. The price per test is lower than offered the competition. However, the main advantage of the new system is going to be that when the patient goes to meet the physician, the patient and the peer educator already know can be expected in terms of change in the prescription or a discussion about switching to insulin etc.. For the doctor the lab tests results are available to support the patient examination and help him make a decision without having to order the obvious exams and having to ask the patient to wait and come back again for the results! We plan to expand our current range of basic tests from the current 8 blood tests (glucose, creatinin, potassium, cholesterol, HDL, Triglycerides, transaminase, albumin) to include proteinuria and also microalbuminuria as well in the future.
Setting up patient information centres in poor communities
A meeting point, usually the home of a person with diabetes, where other people living with diabetes (and related diseases) can get good information about their disease and meet fellow patients. There people can exchange their experiences, support each other and find out about good health service providers.
Design of a diabetes patient information kit
The diabetes patient information kit provides training materials developed from foreign source materials and adapted to Cambodian habits and customs. The training kit is used by peer educators during individual and group sessions in patient information centres inside poor communities.
Coaching poor diabetics how to deal with the health system
MoPoTsyo patient information centre trains peer educators to protect the vulnerable diabetes patients against taking unnecessary loans to pay for health care costs. Unprotected patients often lose their assets, paying too much money for very low-quality care. Informed patients do not just save money, but they are healthier, more confident and better equipped to voice their concerns to improve their situation. From passive victims, many diabetics have become responsible actors.
Equity funds for the poorest
If an individual has a problem related to accessing care or they cannot afford the usual care, then MoPoTsyo patient information centre tries to help the person overcome the problem. The main barriers that patients encounter are related to user fees, transport costs and costs of pharmaceuticals. As long as people suffer from very high blood sugar and hypertension, they are too sick to work and earn income. MoPoTsyo patient information centre has helped many patients to become "productive again" and earn their own income or stop being a drain on the household income.  Few have remained financially dependent on MoPoTsyo patient information centre.
Primary Prevention
When the first Peer Education network in the rural area was up and running, there were several school teachers among the Peer Educators. They are concerned about the health of their colleagues and of the school children. They want to help prevent chronic disease by sharing their knowledge about the importance of physical activity, good food and no smoking. That is why MoPoTsyo created this new intervention. With the right training, Peer Educators can also help in chronic disease prevention among the people who are not patients yet but who want to learn how to protect them selves.