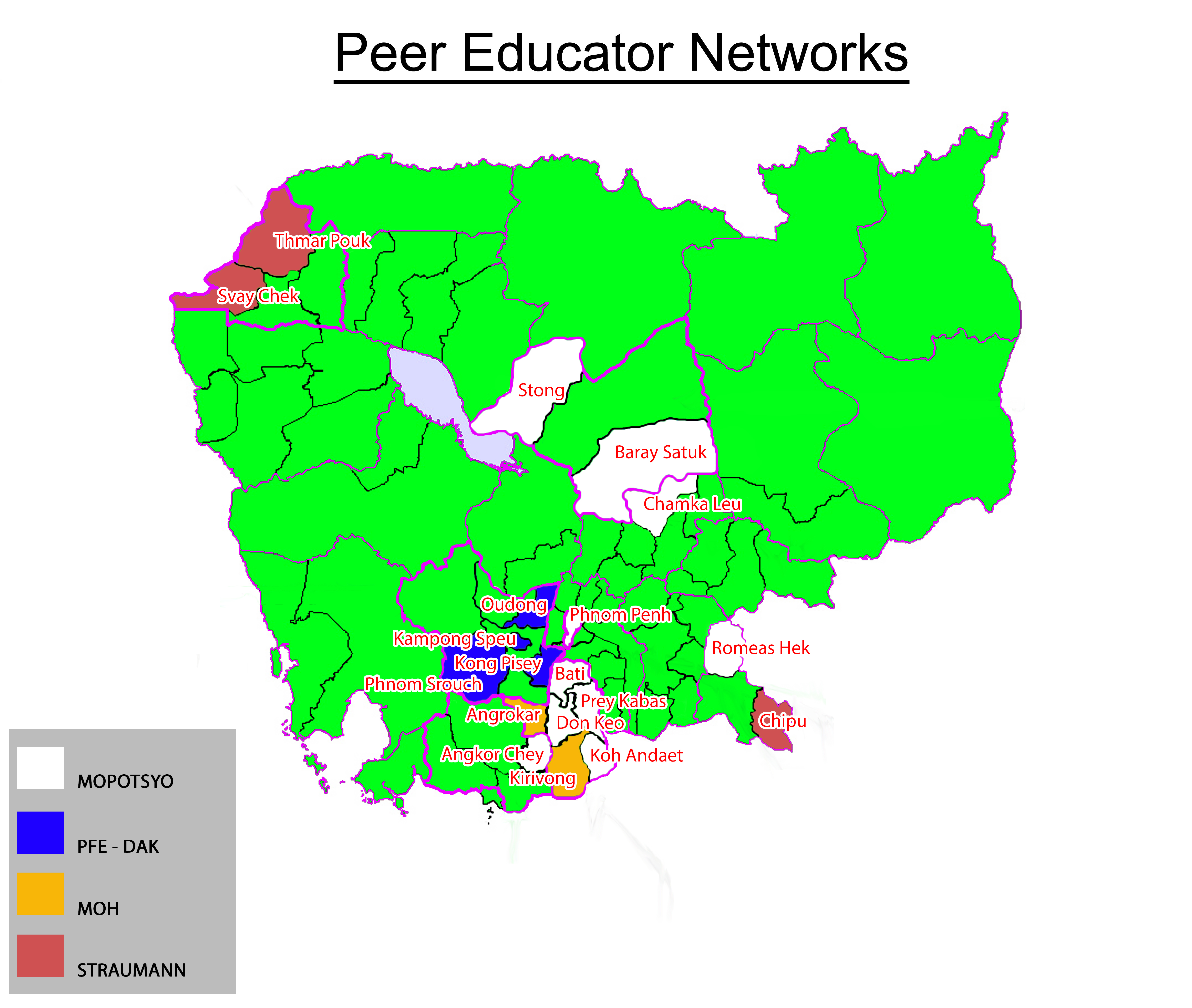 According to Ministry of Health Strategic Plan for Prevention and Control of NonCommunicable Diseases (download), Peer Educator Networks for Diabetes and Hypertension must be continued and expanded to all OD's and function under the OD's who oversea the public primary care system.
Per 2015, there are Peer Educator Networks in the following provinces and municipalities:
Phnom Penh Municipality: 5 Community-based Peer Educators cover 5 urban poor areas: Anlong Kangan, Boeungkak II, Boeung Salang, Borey Santhepheap and Sras Chhork;
Takeo province's 5 Operational Districts each have a Peer Educator Network, covering the OD's Ang Roka, Bati, Daunkeo, Kirivong and Prey Kabas.
Kampong Speu province has a Peer Educator Network in Kong Pisey OD and one in Kampong Speu OD.
Banteay Meanchey province only has a Peer Educator Network in Thmar Pouk OD;
Kampong Thom province has a Peer Educator Network in OD's Baray Santuk and Stoung;
Kampong Cham province has a Peer Educator Network in OD Chamkar Leu.
In Svay Rieng province MoPoTsyo will begin to set up a Peer Educator Network in Romeas Hek.
All Peer Educators report their activity to their leader, the OD Peer Manager (ODPM). Relevant data from follow-up by peer educators but also from medical service utilization are entered into database. This makes it possible to keep track of services and even of outcomes.
For the indicators in Khmer click here, for the indicators in English click here.
Below are the standard activity reports of 2014 in khmer and English which are produced by the networks in each district. In fact, this kind of report is available "per Health Center coverage area".
Phnom Penh:                                        Khmer – English
Takeo Ang Roka                                    Khmer- English
Takeo Bati
Takeo Daunkeo
Takeo Kirivong
Takeo Prey Kabbas
Kampong Speu Kong Pisey
Kampong Speu OD
Banteay Meanchey Thmar Pouk
Kampong Thom Baray Santuk
Kampong Thom Stoung
Kampong Cham Chamkar Leu
Kampot Angkor Chey
According to the Ministry of Health, the health information systems of the Peer Educator Networks must be integrated with the MoH Health Information System. This integration has begun in 2015.
Until 2014, these data were entered by our NGO, but in 2014 we began to train OD staff on how to deal with the data and gave them the equipment. Over 2015 more and more of the data will be entered and managed by the local health authorities so they can begin to assume more responsibility for the management of prevention and control of chronic Noncommunicable Diseases as laid down in the MoH Strategic Plan 2013-2020.
[RESULTS IN URBAN SLUMS and RESULTS IN FIRST RURAL AREA]
Results in Operational Districts Urban and Rural:
Year 1 until 5 of MoPoTsyo diabetes intervention
In year 6 of our operations we reviewed the experience with the urban and rural networks from 2005 until 2010. The result is a quite comprehensive description of how the Peer Educator Networks function, the background and justification of the PEN, the effects on patients in terms of "early diagnosis", health outcomes and health expenditure, as well as risks and opportunities. You can download it here.
Independent evaluation of Year 3 of the first rural Peer Educator Network
In 2010 the first rural P.E.N. has been evaluated by an external evaluator. The Operational District was Ang Roka OD in Takeo province. The report can be downloaded here.
Jackie Green is a Canadian biochemist who obtained her Master in Anthropology at the University of Brunel in London (UK) in September 2011. In order to gather the material for her Master thesis she stayed with us for a couple of months at her own cost meeting with the peer educators and patients in slum areas and in rural areas in order to study Management of Diabetes in the Cambodian context. She also investigated how people use the urine strips. Her thesis called "I Do Diet": The Construction of a Cambodian 'Diabetic Patient' and the Management of Diabetes in Cambodia" can be downloaded here. She was credited with an A with Distinction and we all agree that it should be nothing less than this.
Natalie Eggermont is a Belgian Medical Doctor, who obtained her Master in Medicine at the University of Ghent. In 2010, she came to Cambodia to gather material for her Master thesis as part of an independent evaluation. She was coached by Antwerp Tropical Institute in Belgium. The evaluation report can be downloaded here. It is relevant independent documentation and evidence combining both quantitative and qualitative data. The findings confirm largely what our internal monitoring and evaluation activities have been finding but the interviews provide much more depth and understanding of the situation which helps to explain the findings. A great job!
A peer reviewed publication (http://www.ncbi.nlm.nih.gov/pubmed/25281167) was published in 2014 that reconfirms the relatively good outcomes of the peer educator networks when compared to other low resource countries. See the article of Dr Josefien Van Olmen "Content,  participants  and  outcomes  of  three diabetes  care  programmes  in  three  low  and  middle income  countries" . The article can be downloaded at http://www.primary-care-diabetes.com/article/S1751-9918%2814%2900101-6/pdf