Pouv Sothearin
Thaung Sovannra
Sreng San
Taet Touch
Kaet Bun Cheann
Pouv Sothearin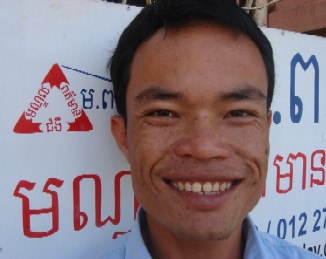 "I am Pouv Sothearin (28). I worked as a peer educator till 2005. Now I am diabetes manager of MoPoTsyo patient information centre and supervise the other peer educators. I have been diagnosed with diabetes type MODY three years ago. I was very thirsty, had headaches and lost a lot of weight. I went to the hospital and did an urine test, the results showed that I had diabetes.
In the beginning it scared me that I would die soon.     I felt 
really bad. I was afraid, I had no money to buy the medicines nor had my family. So I decided to stop my studies, to leave my family and to move to the capital to find a job.
Now I feel more comfortable about my diabetes, I got to work for MoPoTsyo and use my diabetes to help other people. I gained knowledge about diabetes through training courses, self study and the internet. I am also more positive; when my family and friends tell me that I cannot marry and will be death early, I tell them that that is not true. I can live like other persons, if I have the access to medicines, a proper diet and do exercises. With my diabetes I still face lots of challenges, but try to overcome these.
I started with a traditional treatment, but I changed to modern therapy and use insulin one time a day now. As well as that I changed my lifestyle; I changed my diet and start to do exercises. I started to feel much better and was really able to recap my life
In my work for MoPoTsyo I try to help to recap the lives of poor people with diabetes. I support the peer educators in explaining about the diabetes disease, the complications, diet changes etc. The information meetings at the patient information centres are very useful I think, because the information is coming directly at patient level and diabetics can discuss and exchange experiences with each other. Although sometimes people do not want to understand what diabetes implies or they lack money to really change their lifestyles".[29-06-2007]
Thaung Sovannra
Sreng San
Taet Touch
Kaet Bun Cheann